Wedding Limo and Party Bus Services – available on 
Saturdays

.

20% Service Charge and Tolls – not included in the package.
All offers are upon vehicle's availability.
Slightly higher rates may apply for all weddings outside Northern New Jersey; call for details or submit an online price quote form.

Ford Expedition / 6 – 9 Pass
6 P: $250 / 3 Hrs
8 P: $275 / 3 Hrs
9 P: $299 / 3 Hrs
[Over Time: $49-$59 /hr]

Ford Expedition / 14 – 16 Pass
14 P: $399 / 5 Hrs
16 P: $425 / 5 Hrs
[Over Time: $69 – 79 /hr]

Cadillac Escalade / 14 – 24 Pass
14 P: $550 / 5 Hrs
20 P: $600 / 5 Hrs
24 P: $700 / 5 Hrs
[Over Time: $99 – 129 /hr]

Hummer H2 / 14 – 24 Pass

14 P: $450 / 5 Hrs
20 P: $475 / 5 Hrs
24 P: $500 / 5 Hrs

[Over Time: $79 – 99 /hr]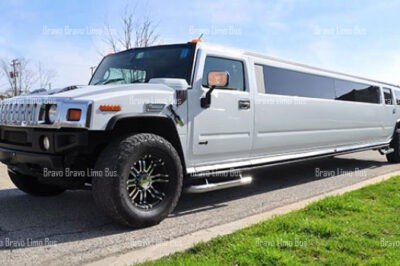 Double Axle Escalade / 24 Pass
$700 / 4 Hrs
[Over Time: $99 /hr]
Mega Escalade / 30 Pass
$700 / 4 Hrs
[Over Time: $99 – 125 /hr]
Jet Door Navigator / 22 Pass
$700 / 4 Hrs
[Over Time: $99 /hr]
Hummer H2 / Pink / 14 – 24 Pass
14 P: $450 / 5 Hrs
20 P: $500 / 5 Hrs
24 P: $550 / 5 Hrs
[Over Time: $79 – 99 /hr]
Navigator / Pink / 16 Pass
$600 / 4 Hrs
[Over Time: $99 /hr]
Cadillac Escalade / Black / 14 Pass
$450 / 5 Hrs
[Over Time: $99 /hr]
Hummer H2 / Black / 14 Pass
$450 / 5 Hrs
[Over Time: $79 – 89 /hr]
Hummer H2 / Yellow / 14 – 20 Pass
14 P: $450 / 5 Hrs
20 P: $475 / 5 Hrs
[Over Time: $79 /hr]
Looking for other days?
Classic Limos, Exotic Party Buses, Rolls Royce – Bravo Limo Bus has it all!
Cars, limos, and party buses for weddings are a familiar descriptive type of phrase that denotes vehicles to serve as transportation for a bridal party.
Amid the cars for weddings, the limousine in NJ is just one lovely example. You can also choose a mega stretch and party bus – these particular cars have plenty of space and can be used to transport the bridal party. Other wedding vehicles include the classy and classic Rolls Royce and the Excalibur. Among other cars for weddings, there can be antique cars too. Some examples of classic-style cars do include the Ford series SUVs.